When it comes to online sports betting sites that have a great reputation in the United States, it is hard to look beyond what Bovada.lv has managed to achieve. There has been a great level of upheaval and uncertainty in the US online gaming community but through it all, Bovada.lv and the parent company Bodog has managed to provide a gaming and gambling option for players. There is no getting away from the fact that this sort of behaviour has ensured that there will always be a market for this site.
It would be wrong to suggest that this was the only reason people were playing on Bovada.lv. The site is a strong sportsbook but there is also a casino and poker option while people looking for even more sports to bet on will find that there is a horse racing section. The site is not wholly focused on US sports, there are other European and UK sports listed on site but the most commonly offered sports, and the most popular sports amongst players, are definitely the US sports.
If you see the Bovada.lv name and worry about the strange end of the domain, there is a simple reason for this. The people behind the site decided that registering the same with the .lv suffix would create a tie-in with Las Vegas. There is no doubt that Bovada.lv wants to be considered as being at the heart of the US gaming scene and for many people, this is where Las Vegas sits. This is why the people at Bodog decided that the Bovada website should be registered to end in the initials LV! This is just another quirky little element that ensures people love Bovada.lv and feel a real affinity to what the site offers.
The sportsbook option on the site caters for around 20 or so sports, with a focus on major sports around the world. This means sports like soccer, tennis, golf and even rugby are part of the sportsbook structure on Bovada.lv. Of course, it is the US sports that are the most popular for players and of all the different US sports that are catered for onsite, basketball is the most prominent. Punters will be pleased to learn that the site offers a comprehensive range of live in-play betting options and Bovada.lv can even be accessed by mobile users. This ensures that Bovada.lv can be enjoyed anywhere people have access to the internet.
Basketball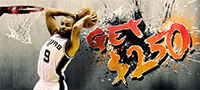 With basketball being a highly prominent part of the site, there is a need for the Bovada.lv site to examine what is on offer for basketball fans. The site always has a large level of focus on basketball and when we reviewed the site, the NBA Conference finals were taking place. There may not have been too many NBA games on at the time but there was no shortage of NBA betting options. While the future market was still running for the NBA Championship, the individual games feature lines, props and in-play options. The site also provided the chance for players to enjoy in-play betting, props and lines for NCAA.
These aspects would be more than enough for most people to enjoy what was on offer with respect to basketball but this is only the tip of the iceberg for Bovada.lv. The site provides a range of WNBA lines and the site offers a strong focus on basketball in Europe. There is a great deal of lines, in-play and props in store when the Euroleague and Eurocup events are in full swing and the site also focuses on a great number of domestic basketball leagues in Europe. In addition to basketball tournaments in the rest of the world and the international arena, the site offers a lot of future betting with respect to basketball events and leagues around the world. Regardless of what type of basketball you enjoy, if you are keen to place a bet on basketball, this is the site that is right for you.
Visit Bovada for the latest odds
Betting options
As a US betting site, it is no surprise that is a range of betting options available on Bovada.lv and thankfully the site goes into great depth about what types of bet they provide. You will find live betting, mobile betting, Parlay betting, teaser betting and line betting on this sportsbook so no matter how you want to wager your cash, you can do so. If you are unsure about any of these terms, the site will provide you with a run-down and explanation of what you can expect from this site.
Other gaming options
While the sportsbook element (and the horseracing section) of the Bovada.lv site will be more than enough for many people, the addition of a poker room and casino has helped to make this one of the most popular sites in the US. It hasn't always been easy to find online gaming sites in the United States so the fact that Bovada.lv offers a bit of everything is definitely a positive thing. If you were looking to quibble about what is on offer the lack of live casino dealers would be worth mentioning but in the long run, there is more than enough positive elements to choose from on site that will keep you coming back for more.
The fact that there is a welcome bonus for the sports betting section as well as the casino and poker elements has to be a great thing for anyone looking for a credible US facing sportsbook and gaming site.
Funding your account
As you would expect from a gaming site that caters to US players, the funding aspect of Bovada.lv is not as straightforward as the funding options provided by other sites. Principally players can fund their account by credit card payment, money transfer and rapid transfer. The credit card option is likely to incur a cost so this has to be borne in mind as well. It isn't really any easier withdrawing money from the site. The options involve claiming a check or undertaking a rapid transfer.
These options are all safe, so that isn't a concern but it is not as immediate as some other sites. This is part and parcel of US gaming and it is not as if this is problem is only found on the Bovada.lv site.
Outcome
As far as US sportsbook and gaming sites go, Bovada.lv deserves to be regarded as one of the best. There are plenty of options, the site is helpful, they love basketball and there is a strong welcome offer for players. There is not much need to look anywhere else for a great US gaming site.